Patron - H.R.H. Princess Maha Chakri Sirindhorn of Thailand

The Vetiver Network International (TVNI) promotes the worldwide use of the Vetiver System (VS) for a sustainable environment particularly in relation to land and water. The Network is a true network of individuals, groups, communities, entrepreneurs, and social organizations working together. The "networking" part is all voluntary - no managers and no remuneration! We believe that it is one of the most effective non profit environmental organizations in the world and is impacting greatly on all levels of society. The VS provides significant economic, environmental and social benefits. VS is now used in most tropical and semi-tropical countries, north to Italy and south to Chile. Based on research and demonstrations through TVNI "partners," including research institutions, development agencies, NGO's and the private sector, VS has expanded from a technology primarily for farm soil and water conservation to include major applications for: ..... more
TVNI history, achievements and time line presentation
TVNI POLICY STATEMENT ON VETIVER VARIETIES AND USE. TVNI is aware that a number of varieties of vetiver grass are being used for various purposes of land management and conservation, and at times this may cause confusion and in some instances concern as to what variety falls legitimately under TVNI's "Vetiver System". Here follows TVNI's current policy:
"The Vetiver System (VS), as characterized and supported by TVNI, is based on the application of sterile varieties or cultivars of Chrysopogon zizanioides (L.) Roberty. All other Chrysopogon species (syn. Vetiveria) that are fertile may be used for similar applications to those covered by VS, but cannot be guaranteed to be effective or meet the technical specifications attainable with the known, tested, proven, and sterile C. zizanioides. Fertile vetiver grass varieties may be utilized just as any other useful, native plant might be for soil and water conservation and land management; however, TVNI does not specifically promote their use, and it actively discourages the sales and export of viable seed or plant material of fertile vetiver to countries and regions where such plants are not native and thus may pose a risk of being invasive."
DONATIONS. TVNI is administratively very small and is managed by volunteers around the world. Our budget rarely exceeds $20,000 a year. We need donations to ensure that this website, publications, and training can continue. If you have benefited from TVNI please consider a small donation. Even if you haven't, but would like to participate in this world wide environmental initiative we would appreciate you contribution however small. Donations are tax deductible.
TVNI WEBINAR SERIES - TVNI has hosted two webinars with more to be scheduled in the future. The two completed webinars focused on "Embedding Vetiver Grass Technology into Farm Systems" and "Developing. Marketing and Social Impactof Vetiver Grass Based Handicrafts"
VETIVER PLANTING LOCATION MAPPING - CASH PRIZE COMPETITION. TVNI will award three prizes: Ist Prize US$500, 2nd prize $300 and 3rd prize $200 to those persons who add the greatest number of Vetiver Grass Technology (VGT) application sites to iNaturalist by March 31 2022. Go to https://www.inaturalist.org/projects/vetiver-systems to see what locations have already been entered. Take a look at the "Journal" https://www.inaturalist.org/projects/vetiver-systems/journal to see the details. Please try and find some time to add even one or two entries as this all helps others to know where vetiver is being grown and used. It is easy to join iNaturalist and there is no cost involved. TVNI Board members are ineligible from participating for the prizes.
A NEW VETIVER CLONE CIMAP-FORAGIKA - Dr Umesh Lavania of the Department of Botany at the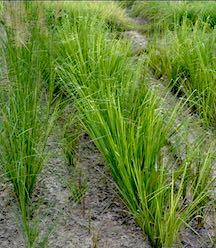 University of Lucknow, India and a long time friend and member of the Vetiver Network International, has with his team identified and tested a new sterile vetiver clone named CIMAP-FORAGIKA that is fast growing and has a superior root system and 1.5 times the tillering of any other known vetiver clone. Its morphology is different to other vetiver clones. It has soft leaves rich in protein and crude fiber and low in carbohydrates. Full details can be found at this link:.... Plant material is available. The attached image shows CIMAP-FORAGIKA at right with rows of other clones to the left (all at the same age). With its superior roots, and leaf and stem biomass it should be attractive for forage as well as erosion control and slope stabilization and might be a game changer for farmers interested in vetiver. Interestingly this is a north Indian diploid vetiver.
VETIVER SYSTEMS IDENTIFICATION AND LOCATOR PROJECT.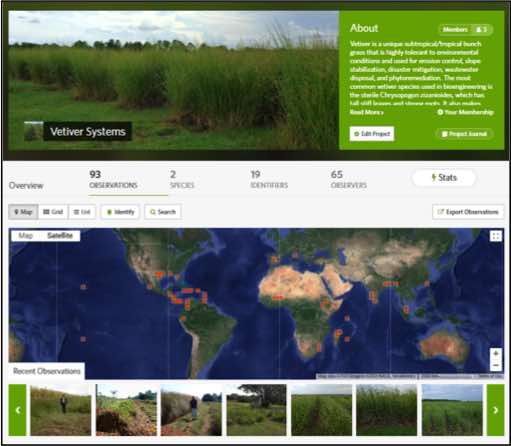 TVNI has a new "project" that we invite our community and others to participate in — and it should be fun doing so. As you know over the past couple of years we have been using iVGT (on-line Vetiver tracking system) to locate global vetiver plantings. This effort has not been very successful, primarily because the software has been slow and difficult to use and it appeared to have limited community outreach. We will not abandon iVGT completely, BUT with the support of Eric Wiediger (one of our members) we have set up a new Vetiver ID and site locating project called "Vetiver Systems" using the "iNaturalist" app that works very well on smart phones and computer browser. iNaturalist provides the ability to create a "Project" to track certain species (wild or cultivated) globally, as well as build community and participation, so TVNI has created a project page called "Vetiver Systems". We hope that those of you with interest in vetiver applications and eco-restoration, both from a practical and scientific reasons, will join iNaturalist and start sharing your vetiver projects! If you wish to participate please review this short guide first.
VETIVER AND HEALTH -- VETIVER LATRINE In 2019 Roger Geitzen wrote an article about the vetiver latrine program in Haiti. He has now written a short update reflecting on the 365 latrines constructed under the program, all but two being successful. This type of vetiver application has relevance in many poor parts of the world and is another example of the a cross sector application of the technology.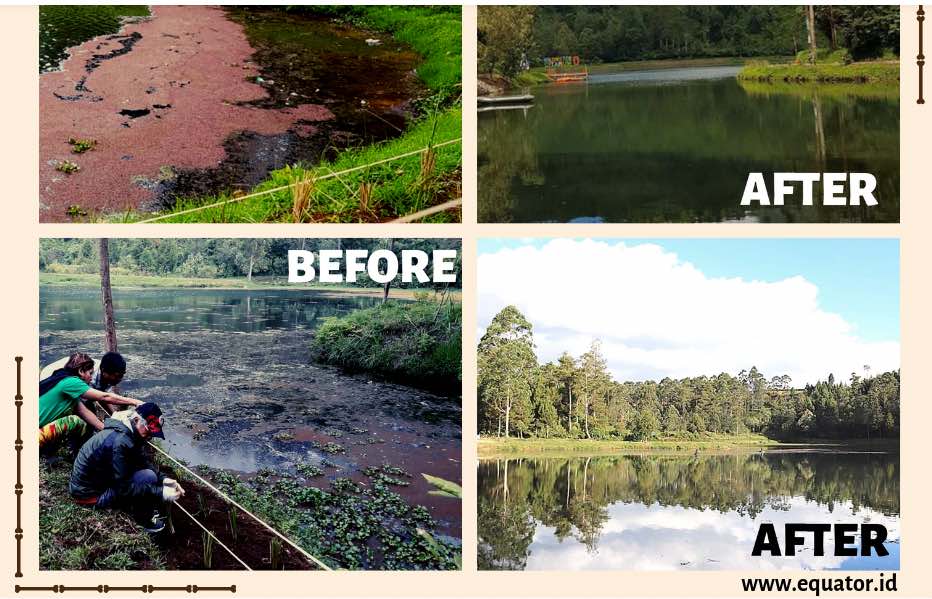 CITARUM RIVER OF INDONESIA - A RIVER IN CRISIS - VETIVER SYSTEM, AN IMPORTANT TOOL IN THE RIVER'S REHABILITATION
The Citarum River, located in Java, is often referred to as the dirtiest river in the world. It is not only polluted by trash (plastic and other solids) but also from heavy sediment loads and polluted water from adjacent farm land and residential/industrial areas.
Over the past few years, an initiative led by Irma Hutbarat and her Citarum Care organization, along with the Equity to Equator, the Indonesian army and other organizations have been developing plans and activities to clean up the river. One of the key tools for this clean up is vetiver grass. Details about this program can be found at: Citarum Care and at a special article. A recent report 2019 REPORT: IMPLEMENTATION OF VETIVER SYSTEM BIOTECHNOLOGY is also available. Irma Hutbarat is to be congratulated for her work and commitment to improving Indonesia's environment through the use of vetiver. (the image above shows before and after photos of Cistani Lake - the source of the Citarum River - after vetiver hedgerows weer planted around the lake)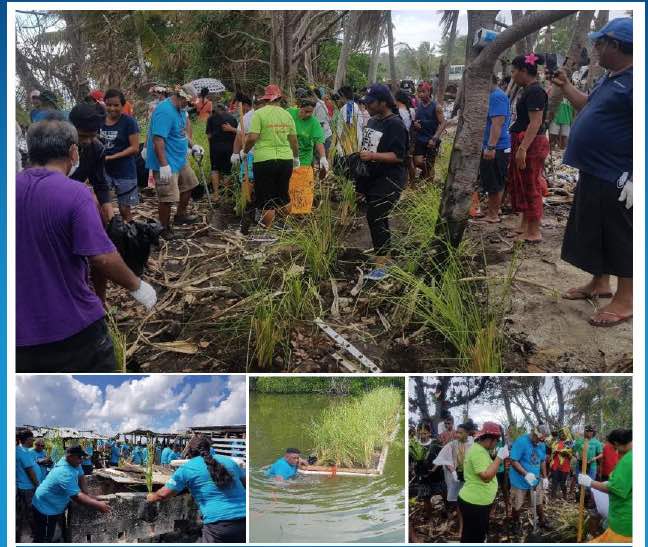 VETIVER SYSTEM INTRODUCE TO TUVALU - SOUTH PACIFIC.Robinson Vanoh (Vetiver Coordinator for PNG and South Pacific Islands has been leading a TVNI initiative to extend the use of the Vetive System on islands in the South Pacific. One of these is Tuvalu. The island has a very serious ground water contamination from the island landfill, pig growing, and domestic waste. VS is/will be used to mitigate some of these problems. Robinson's most recent report on planting, training, and implementation can be found at this link.
EFFECTIVENESS OF VETIVER GRASS VERSUS OTHER PLANTS FOR PHYTOREMEDIATION OF CONTAMINATED WATER - This paper is a very useful document showing the effectiveness of vetiver for phytoremedial purposes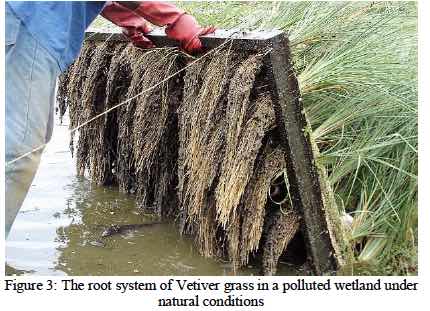 VETIVER RESEARCH IN CHINA - The Chinese have carried out research on a range of vetiver applications over the past 30 years - some of it very good. Here is a list of some 68 research papers published in 2016 and 2017.
VETIVER FOR THE PREVENTION OF HYDROGEOLOGICAL INSTABILITY AND ENVIRONMENTAL DISASTERS - This conference was held in Italy in may 2019 and was attended by teachers and their students at the State Secondary School Leonardo Da Vinci in Terracina. A summary is at this link. amongst the topics discussed was the dicovery of a gas from vetiver that contained 60% hydrogen.
CONTROL OF RICE STEM BORER IN SOUTH CHINA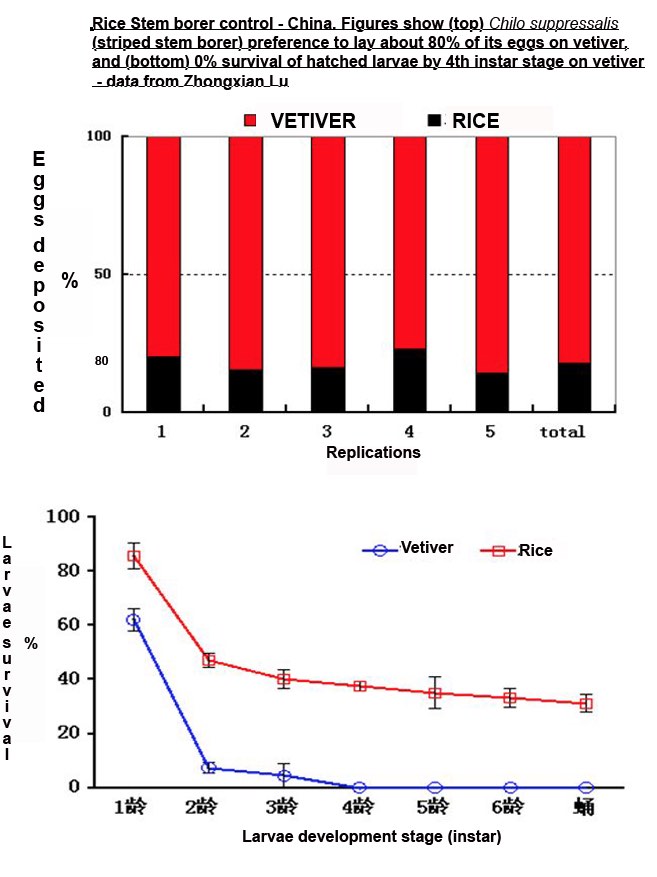 Reducing erosion sediment to coastal waters in the south Pacific. A Northen Mariana Islands Initiative. . Dr. Mohammad Gulabi, a long time Univeristy of Guam researcher and promoter of the Vetiver System, initiated a most interesting pilot project to rehab some very heavily eroded hillside catchment areas on Rota Island -- see -- https://vetivernetinternational.blogspot.com/2019/04/land-rehabilitation-in-northern-mariana.html for more details and links to related studies. Catchments like these have been deforested, burnt and overgrazed for decades resulting in serious soil, land degradation, and downstream negative impacts on coastal waters and corals - a very serious problem further aggrevated by more frequent climate related extreme waether events. The local communities are concerned and have participated in the community effort to rehab these areas. This type of community led initiative supported by some good technical support could be replicated throughout the world's tropical islands where these problems are commonly found and are getting worse. The Vetiver System technology provides communities a relatively simple and LOW cost means to develope resilience against climate change that they can manage without major demands on government support.
Agronomic and economic evaluation of Vetiver grass (Vetiveria zizanioides L.) as means for phytoremediation of diesel polluted soils in Israel (2018) Nativ Dudai et al ..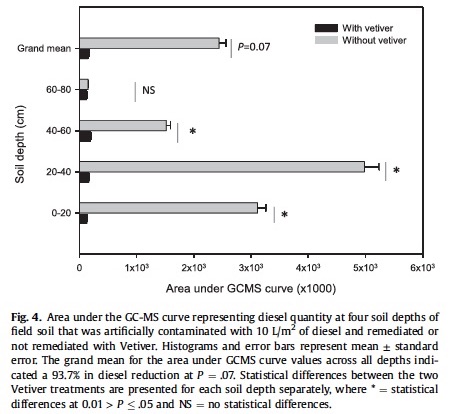 ABSTRACT: Soil pollution in Israel, due to diesel contamination, is a major concern, with gas stations, factories and refineries being the main polluters (>60%). Vetiver grass (Vetiveria zizanioides L.) is a perennial grass belonging to the Poaceae family, and is recognized world-wide for its potential as a plant with phytoremediation traits to contaminated soils. It is demonstrated here to decrease diesel contamination in field and court-yard trials. Chemical soil analysis indicated up to a 79% decrease (P < .05) in diesel pollution of contaminated soil planted with Vetiver; and at high soil contamination levels of 10 L/m2, a significant (P < .05) reduction of 96, 96 and 87% was recorded at soil depths of 0-20, 20-40 and 40-60 cm, respectively. Furthermore, in field plots contaminated with diesel and planted with Vetiver, weeds' biomass recovered to non-polluted levels following 8 to 9 months of Vetiver treatment. An economic evaluation conducted based on the cost-benefit analysis (CBA) principles, utilizing the Net Present Value (NPV) compared phytoremediation to other currently used decontamination procedures. The economic comparison showed that phytoremediation cleanup costs are lower and more beneficial to society at large, primarily from an ecosystem services perspective. Combining the results of the agronomic examination with the economic valuation, this research pointed out that phytoremediation with Vetiver has a non-negligible potential, making it a good solution for cleansing diesel from soils on a state-wide scale in Israel and worthy of further research and development.
ST VINCENT AND THE GRENADINES . A very interesting vetiver handicraft program organized by "Growing in Time" involving training and rehabiliating prisoners in Kingstown is doumented in this video by Vonnie Roudette. A great initiative by the prison authorities, Vonnie and the inmates
VIETNAM: Vetiver grass has the potential to reduce dioxin contamination In 2014, the research team of Dr. Ngo Thi Thuy Huong began to study the possibility of mitigating dioxin from vetiver grass. The project has achieved promising results and demonstrated that vetiver grass has the
ability to stop dioxin (AGENT ORANGE) from spreading to surrounding land, thus reducing dioxin contamination in the land affected as a consequences of the Vietnam war. In 2017, the United States Agency for International Development (USAID)announced that the project would be granted $300,000 to expand research. The project will benefit about 135,000 people living around the airport areas, and especially for staff working at the 935th Fighter Regiment at Bien Hoa Airport by minimizing the potential health risk due to The results of this project will contribute significantly to the development of phytoremediation technologies.
In addition to dealing with dioxin contamination, the successful project will add a dioxin-preventive strategy with this friendly environmental technology; the results and recommendations of the project should also help policymakers and researchers on environmental protection and management in decision making and future research. See Press Release
PHILIPPINES --- VETIVER GRASS APPLICATION WITH COCO-FIBER PRODUCTS IN PUBLIC INFRASTRUCTURE ... An interesting example of how technologies can be combined. Coconut fibre is an important product in the Philippines and when used as coconut matting in conjunction with vetiver grass it proves a virtual guarantee for success of slope stabilization. This 2012 presentation by the Philippines Department of Highways and Public Works shows its effective use on a project to stabilize long stretches of Lahar mega dike protection berms locatedat Botolan, Zambales on the island of Mindanao.
CHINA - LARGE SCALE VETIVER PLANTINGS ON THE DRAW DOWN ZONE OF THE DANJIANG RESERVOIR,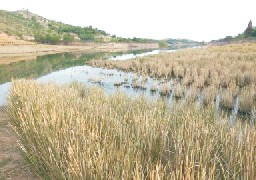 HENAN PROVINCE PROVES VERY EFFECTIVE -- Vetiver grass and other tree and grass species have been planted in the draw down zone of the Danjiang reservoir for 14 years now. The reservoir has been low, but in 2017 the water level rose significantly by some 10 meters; many trees and all the grasses were inundated with water for up to 6 months. Trees and grasses except for vetiver died. Mr. Jiang Jianggong, chief of the Yangtze River Committee, after seeing the scene said : "I have worked in the Yangtze River Valley for 30 years. I haven't seen a plant in the upper and lower reaches that can survive more than 3 months flooding, this vetiver grasscan survive six months of flooding". The location is approximately N 32.7º, E 111.5º. A cold tolerant variety of vetiver, Wanxiang #1, was used in the plantings. More photos in English and in Mandarin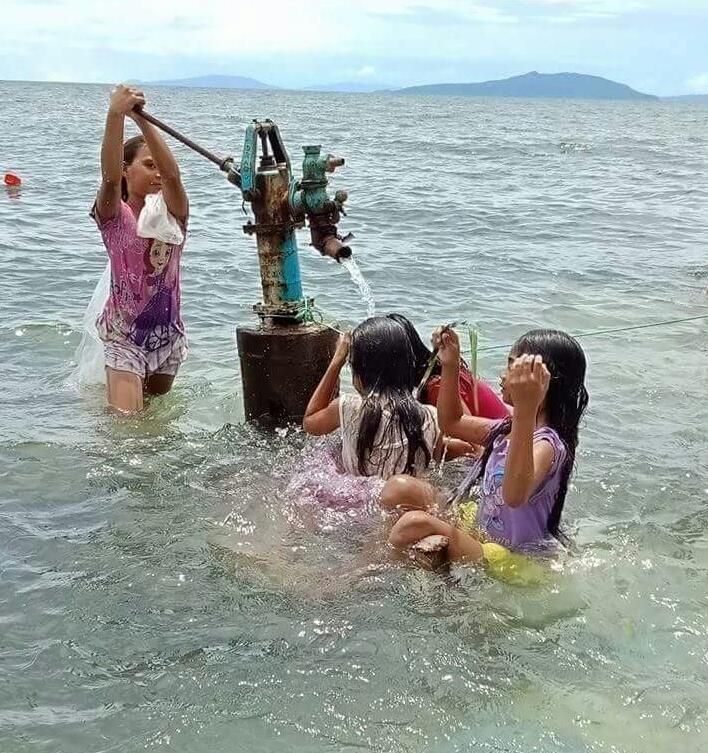 SOUTH PACIFIC AND CARIBBEAN ISLAND VETIVER INITIATIVE - This photograph is the face of climate change now and in the future for many tropical island communities as sea level rise. In addition with increased concentration of island populations in towns and villages having to deal with extreme weather events, declining food production, battered infrastructure, and health hazards due to polluted water emanating from agriculture, domestic and industrial sources, the islanders face a bleak future. Island nations neither have the funds nor low cost and replicable technologies that might improve the quality of their lives. Making sure that sea level rise is contained demands global political courage and action. However we do have technologies that Island communities can use to make them more resilient to other hazards that come with climate change and population growth. TVNI is working with NGOs, Pacific Exchange (Solomon Islands) and IaMovement (Trinidad and Tobago), as well as other agencies to introduce the Vetiver System as multipurpose applications to deal with some of these climate change threats.
"This "south-south" project will link VS initiatives in the Caribbean and south Pacific that address the mitigation of degrading land, soil, infrastructure, water quality, and coastal waters caused by climate change and increasing population densities – primarily through grass roots community education and empowerment approaches. Successful implementation will result in improvements to: incomes, soil, water and community health, infrastructure stability, and community resilience. The Vetiver System (VS) with its wide range of simple, low cost, cross-sector applications, provides for greater community strength and independence to tackle many otherwise costly or unsolvable challenges. The cross-regional project built on past worldwide VS experience, and would expand the process and knowledge to other islands regionally and globally, drawing on shared project experiences".
The project will be supported by TVNI staff who live and work in the regions. Paul Truong, TVNI's Technical Director, is providing critical technical oversight. Robinson Vanoh,TVNI Associate Director, from PNG will provide key training and technical support for the Solomon Island program; and as he is already doing, support to Fiji and Tuvalu for their new and much needed vetiver programs. Jonathan Barcant, TVNI Director, who designed and executed the award winning Vetiver Education and Empowerment Project (VEEP) will provide the technical support and leadership for an extended VEEP in Trinidad and Tobago, as well as initiating similar movements in other Caribbean islands. These programs will be primarily community focused, planned and executed. They will encourage participation by government and private sector enterprises. More details relating to proposals and ongoing activities can be found here. South Pacific Islands Facebook page
VIETNAM VETIVER NETWORK - A WELL COMPLETED PROJECT. - TVNI has over the past three years (2015-2018) been providing funds and technical support to expand the impact of the Vietnam Vetiver Network. The Da Nang Vetiver Foundation was established as a legal umbrella association for the Vietnam Vetiver Network to receive the financial support. The program included: the promotion of the Vetiver System to farmers and communities in the Central Highlands (erosion control, mulch, crop protection - stem borer of rice, and soil rehabilitation); disaster mitigation (protection of hydropower dam, riverbanks an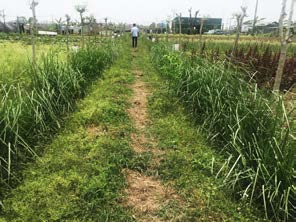 d erosion prevention; remediation of agent orange/dioxin contaminated soils; and other applications. A pictorial presentation summarizes the program. As a result of this support the Vietnam Vetiver Network has enlarged its role in the promotion of the Vetiver System and there is now an accelerated interest in the technology throughout the country. We congratulate all involved, particularly Mr. Tran Man, Vietnam Vetiver Network Coordinator, and Ms. Quyen Nugyen, network development officer, as well as the many early vetiver pioneers that established the initial interest and demonstration of VS in the country especially Mr. Tran Van.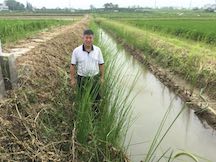 VETIVER FOR STEM BORER CONTROL OF RICE- Twenty counties in China's Jiangsu and Zhejiang Provinces are planting vetiver as an ecological engineering method (trap crop) for the control of two stem borer species - Chilo suppressalis (striped stem borer) and Sesamia inferens (pink stem borer). The results are very encouraging and it appears that rice farmers are excited with the significant increase in protection (70%) against stem borer damage and as a result a reduction in pesticide use and cost. Stem borer populations on rice decreased by up to 84% when vetiver rows were planted 50 meters apart and 3-5 meter apart in the row (in most cases hedgerows on the paddy field boundaries). A number of research papers have been published in China that describe why vetiver is such an effective trap crop. First, there are indications that some of the unique oils in vetiver when acting together act as a pheromone - volatiles - that attract the stem borer moths. Secondly vetiver contains toxic substances, which have lethal effect on the larvae that inhibit the esterase and cytochrome P450 enzyme activities, leading to the function loss of larvae in detoxification and metabolism. Additionally, compared to rice, reduced nutrients in vetiver cannot meet the demand of the larvae, and led to digestive function and physiological activity disorder and ultimately death. For newcomers to this topic you should be aware that the maize stem borer moth also is attracted by vetiver where it lays its eggs, thus reducing damage to the adjacent maize crop. Copies of the Chinese research papers relating to this topic (all with English abstracts) are at this link.
ingya Refugee Camps in Bangladesh - It is nice to see that millions of vetiver slips are being introduced to refugee communities to stop erosion and reduce the risk of landslides, and that the communities appear to like the grass and the technology. See this IOM press release. This work is being carried out under an initiative of IOM, NGOs and Bangladesh University of Engineering Technology (Dr Mohammad Shariful Islam - long time developer of the Vetiver System in Bangladesh). If VS can be used successfully in these camps then there should be no reason why it should not be used by other refugee communities or by other poor and densely populated communities for a whole range of VS applications. Congratulations to IOM, NGOs, and the participating refugee communities.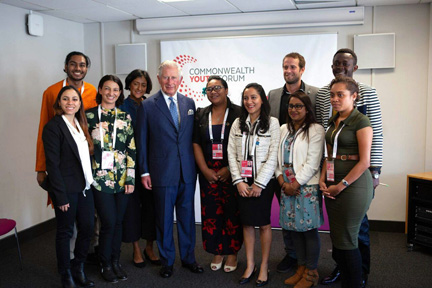 Jonathan Barcant of Trinidad and Tobago (back row 2nd from right), pictured here with HRH Prince Charles and other award winners, has received the Caribbean and the Americas Regional Award for Excellence in Development at the Commonwealth Youth Awards. He was one of four out of 20 world wide finalists who received the award. The award was for his work in introducing the Vetiver System to villagers at Paramin , Trinidad and Tobago) and for expanding the thought/talk process through "Climate Talk" and the IAMovement to other communities and schools. 
Congratulations Jonathan! You can read more about this at:The Guardian
Jonathan's approach is an interesting one that goes far beyond the introduction of VS, most importantly it aims at young people. VS makes a good talking point that brings communities together to build other environmental related initiatives. We can all learn from his success. We wish him success as he moves the process to other parts of Trinidad and the Caribbean. Jonathan writes:
"With the Vetiver Education & Empowerment Project (VEEP) model successfully completed in Trinidad &Tobago's (T&T) largest hillside farming community called Paramin, we are now seeking to replicate the project across the country on a national scale, in 12 more communities. To do this we have built partnerships with Regional Corporations, several of these communities, the UNDP, United Way, several Ministries and the University of the West Indies. Our goal is to help build climate resilience in T&T through a nationwide VEEP programme, and in so doing also let it serve as an example which can be taken across the Caribbean to other islands in need. Dominica for example saw over 9900 landslides during Hurricane Maria due to the sheer quantities of rainfall; so where the Vetiver System (VS) aids greatly in soil stabilization, property and infrastructure protection, it can help build resilience on all the Caribbean islands to cases of extreme weather which seem to be on the rise. We have been able to share to quite a wide range of interested stakeholders throughout the region and are building this network, with the goal of eventually helping to carry out a regional program. The islands where we've already got great interest from and connections made are Dominica, Antigua and Barbuda, St. Lucia, Grenada, St. Vincent, Jamaica and Haiti". 
INTERNATIONAL WOMEN'S DAY.We recently celebrated the many thousands of women who have been able to improve their lives through the Vetiver System and those who by their example and commitment have contributed much to its promotion around the world.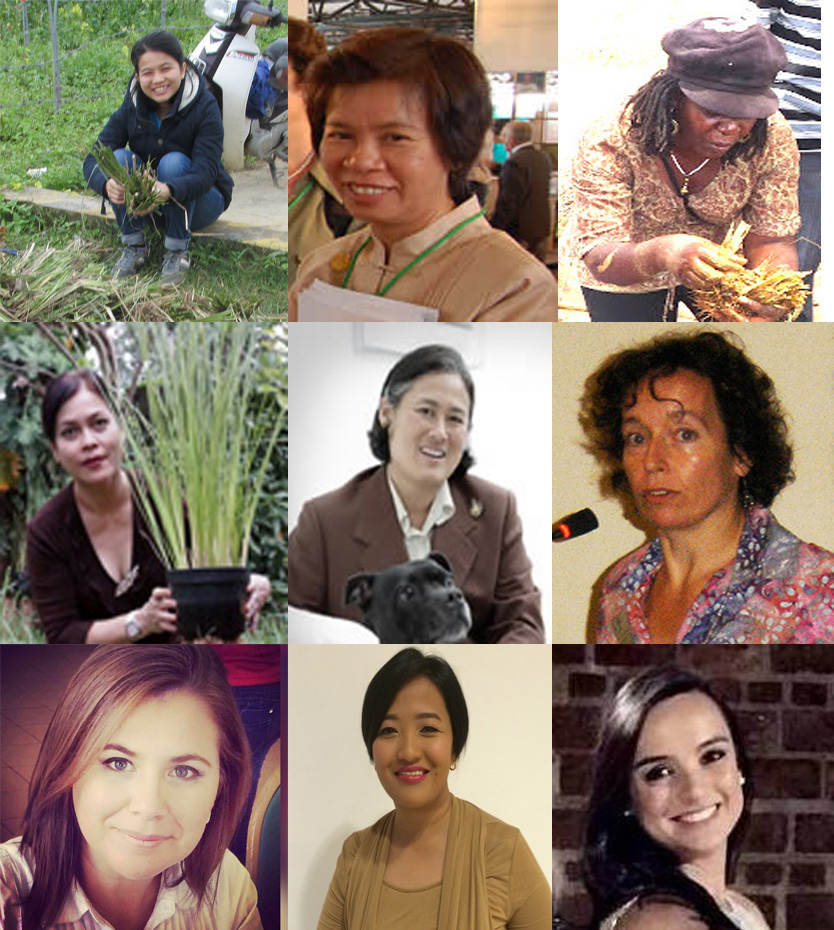 The image above is of some of these key women, all of whom we are fortunate to be associated with. (top row left to right): Quyen Nguyen (Vietnam), Suwanna Pasiri (Thailand), Jane Wagesa (Kenya). Middle Row: Irma Hubarat (Indonesia), HRH Princess Maha Chakri Sirindhorn (Thailand), Elise Pinners (The Netherlands). Bottom Row: Yorleny Cruz Chaves (Costa Rica), Noah Mary Manarang (The Philippines), Paula Leao (Brazil). We salute and thank all of you.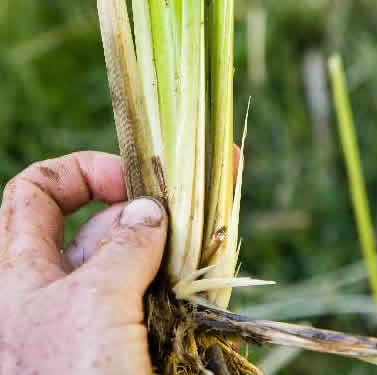 VETIVER PROPAGATION IN THE SEMI-TROPICS.Vetiver is propagated vegetatively. Propagation is quite simple and can produce quality plants if done properly. Here is a link to a presentation by Evan Millwood (a permaculturiist from Queensland Australia) that descibes in text and photos how the process is done on small scale.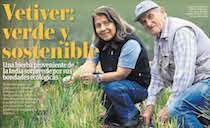 Vetiver for urban applications. Most Vetiver System applications can be used effectively under urban conditions, particularly when a community approach and involvement is concerned. Some of you may know or have read about Alois Kennerknetch. and his wife, Maria Tupac Yupanqui who have been working with vetiver for many years particularly with urban communities in Lima, Peru. Here follows a few words from a recent newspaper article. "Very few people know about vetiver in Peru, but this is going to be the most important plant in the future to save the environment, says Alois Kennerknetch. He and his wife, Maria Tupac Yupanqui, both engineers, studied this plant for more than a decade. "One square meter planted with vetiver absorbs up to 5 kilos of CO2 per year. When planted for gardens, parks or the public thoroughfare, besides being pretty, it uses twenty times less water than the "American" grass, which we find throughout the city (Lima) ...... You can leave the vetiver for four months without a drop of water and it continues to grow. The plant grows up to three meters but can be maintained it at any height. This, coupled with the low water requirement makes it ideal for city gardens. Today, vetiver is already planted in 18 districts of our capital and in cities such as Piura, Tacna, Puno, Cusco and Puerto Maldonado. This plant makes it possible to purify water, decontaminate soils and is excellent for lands with excess salt. After about two years, it completely eliminates salt, thus improving soil conditions. ....... " The full article in Spanish is at: http://publimetro.peruquiosco.pe/m/a/20171017/18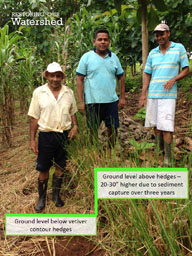 Restoring Our Watershed is an organization in Costa Rica that is working with Communities to restore the degraded land and groundwater in northwest Costa Rica.  The heart and soul of its strategy is empowering families to control erosion and capture more rainwater, most frequently using vetiver grass technology (VGT).

"Restoring Our Watershed is creating a positive model for watershed management to ensure that future generations will have access to plentiful water, both in the Nandamojo basin and throughout Guanacaste.
Why? Water scarcity threatens communities in northwestern Costa Rica, and the process of assigning blame is tearing many apart. Major industries, including tourism and agriculture, have been pitted against residents of small towns whose wells are going dry. In most cases, the proposed solutions to this crisis focus solely on infrastructure improvements (new wells) or limiting the amount of water industries can withdraw.

Climate change has taken its toll on Guanacaste, which has suffered both a long-term drying trend and shorter, intense periods of drought. Projections for the future cast a grim outlook for the province – less rainfall and an increasing frequency of droughts.


Digging new wells and limiting irrigation are not comprehensive strategies for adapting to the challenges presented by climate change. They are short-term methods for providing potable water that do not address the core problem created by droughts – that landscapes dry out, leaving human, plant and animal communities without sufficient resources.

It is possible to address that problem by renewing a landscape's ability to absorb rainwater. By creating a "sponge-like" terrain with protected waterways, vast volumes of water that would be lost to surface runoff or evaporation can instead be harvested in aquifers and ecosystems. Our vision is that the Nandamojo basin will serve as a model for achieving this transformation on a watershed scale.

How? Our strategy includes three components:

Promoting land use change at the grass roots level by empowering families to adopt practices that infiltrate more rain into groundwater aquifers. We work directly with landowners of any size, providing them with the tools, knowledge and plants needed to transform their landscape into one that absorbs more rain.

Providing watershed stewardship education for stakeholders of all ages. We reach out to everyone from elementary school students to watershed elders to discuss the urgency of protecting shared water resources and strategies for doing so.

Fostering sustainable, local economic enterprises that both improve watershed health while and provide financial resources for watershed restoration and protection. We've implemented the Bees for Trees micro lending program to create green jobs while financing the reforestation of river corridors."
The Vetiver Network International has supported this type of strategy in the past and underscores its importance at this time.  Back in the 1980's when John Greenfield and I introduced VGT to World Bank Watershed projects in very dry areas of south India I recall how farmers at Gundalpet (600 - 800 mm rainfall) who had been using vetiver as field boundary hedges for generations told us that their wells never dried up, whereas other villages that did not use vetiver often had dry wells.  I also recall how John demonstrated how small farm ponds were recharged by shallow groundwater where vetiver hedgerows had been planted for soil and water conservation.  Nowadays where water is becoming a real issue, we should perhaps promote vetiver for water conservation, which automatically will generated soil conservation benefits - the beauty of this unique plant and its applications!! Contact:  http://www.ourwatershed.org/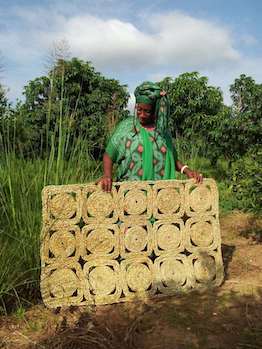 Vetiver Handicrafts Around the World. Communities in many tropical countries that have had access to vetiver grass have often used the plant as a source of material for making handicrafts. In recent years the vetiver handicraft has moved from fairly simple utility items such as baskets, platters, screens and so on, to the production of highly sophisticated and artistic items. The modern use of vetiver for these purposes was pioneered by the Royal Development Projects Board of Thailand. Not only did the Board support some exquisite handicraft work, but it also developed the technology and trained many Thais and others in its use. The Venezuelans, using some of the Thai techniques along with their own traditional methods, have also extended vetiver handicraft making. Many other countries including China and India are now using vetiver leaves and roots for handicrafts as shown in this very good presentation by Paul Truong and Joe West
Extreme slope stabilization using the Vetiver System in Guatemala. At the Southern Africa Geomorphology Theory and Practice Conference that was held in Swaziland from July 25 to 28th 2017, Lionel Castro of VETIVER TEC located in Guatemala shared some of his Vetiver System applications for slope stabilization of extreme slopes in Guatemala using some new techniques. We congratulate Vetiver Tec on some excellent high quality work - See photo essay (Spanish) (English)
Vetiver And Agroforestry For Poverty Reduction And Natural Resources Protection In The Dabie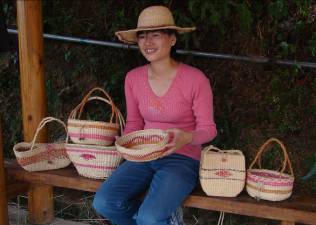 Mountains Of China - A pictorial report of progress in this poor area of China. This is the second project in the Dabie Mountains that has the Vetiver System as a core component. Interesting to see the progress that is being made - note the large vetiver nurseries that have been developed by farmers for the sale of planting material to other farmers and construction agencies. This same project has developed a viable vetiver handicraft component as well. The project is the responsibility of the China Vetiver Network under the leadership of Liyu Xu.
Vetiver Latrine Guide. A "how to" guideto successfully install a natural, sustainable latrine using vetiver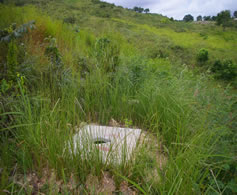 grass. A few years ago Owen Lee promoted a rather simple concept for using vetiver to improve pit latrines in Haiti with the objective of reducing the incidence of disease (particularly cholera), stabilizing the latrine pit walls, reducing fecal effluent from polluting nearby water supplies, and for providing privacy. Vetiver together with a low cost and simple concrete toilet slab was able to achieve these objectives for about $20 a latrine. We understand that disease problems have been significantly reduced and that only 2 out of 300 latrines had pit wall collapses. Roger Gietzen who does voluntary work in Haiti is extending Owen Lee's work with vetiver latrines and has developed a very useful "how to" guide. He is hoping that the guide will be translated into multiple languages and used widely. His updated guide is at: http://www.healthy-mind-body.com/humanitarian/vetiver_latrine.html
TVNI - PROFESSIONAL CERTIFICATION FOR BIOENGINEERING AND PHYTOREMEDIATION APPLICATIONS.TVNI Announces new certification for qualified practitioners specializing in Vetiver System applications in Bioengineering and /or phytoremediation. This includes:
New, more rigorous eligibility criteria and guidelines for bioengineering and phytoremediation certification.  Criteria and guidelines for other categories remain basically as before.
No longer "Certificate of Technical Excellence", now "Professional Certification" for bioengineering and phytoremediation certification. 
Application fee of $250 for professional certification
Alternative "Technical Excellence" certification available to those who do not wish to apply under new guidelines.
The use of Vetiver Grass Technology in bioengineering and phytoremediation has been expanding at a rapid pace around the globe in the last few years.  Increasingly, TVNI is being asked to provide practitioners with a Certificate of Technical Excellence in these areas of application.  In the past, we received relatively few such requests and the majority of them came from individuals whose work was known well, or whose expertise could be confirmed by known and trusted qualified TVNI members.  Today, this is less commonly the case.  Many individuals seeking certification are professionals. For these, TVNI certification is a way of enhancing their and/or their company's professional profile and competitiveness.  In addition, with many of these, we must rely completely upon the information they provide to us as a means of judging if they are worthy of certification or not. As a result, TVNI has updated its eligibility criteria and guidelines relating to provision of proof/documentation for those seeking certification in Vetiver System Bioengineering and/or Phytoremediation applications. This is necessary as there are serious considerations of human life and health, irreversible environmental damage and economic loss associated with inadequate design, installation, and/or maintenance/monitoring. In developing these new criteria and guidelines, we have in mind that applicants would be professional consultants and contractors.  In addition, as the review of their applications will require the time and services of like professionals, TVNI will be instituting a charge of $250 for certification. Details of the new certification are at: https://www.vetiver.org/TVN_Tech_excellence01.pdf and https://www.vetiver.org/TVN_tech%20excellence_Pro%20Cert%20Final.pdf
BRAZIL – VETIVER HANDICRAFT TRAINING COURSE - A community development initiative(photos) Last month (September 2106), at the initiative of Deflor BIOENGENHARIA, we held a workshop for training Vetiver handicraft craftsmen. The event was held in the beautiful facilities of HOTEL FAZENDA DA CHACARA, located in the vicinity of Santana dos Montes, state of Minas Gerais, Brazil,between the 31/08 and 16/09, involving a total of 112 hours of training.
The activity is part of Deflor's community development program, and was opened by its Chairman, Ing. Aloisio Rodrigues Pereira, with guests including the Mayor of the Municipality and Sacedorte Parish. The course was managed by Deflor's Engineers, Paula Leao and Luiz Lucena. Venezuelan, Marbella Rivas Hernández, was the trainer, under the advice and supervision of Rafael Luque M, of Vetiver Antierosión, C.A., Venezuela.
The workshop taught the participants the various types of braids that are used to manufacture various vetiver products; followed by weaving techniques where participants made dining table mats, bottles, fans, angels, small decorative pieces attached by magnets to refrigerators, and finally the hen egg cup  Participants were also told about the spread of vetiver teaching, and techniques to harvest the leaves and their processing as a fiber for crafts.
Course participants, with support from Deflor, will in the future meet once a week to improve their techniques and will include new participants from the community.
The company provided participants with a number of vetiver plants to plant at their homes and thus have own raw material. Deflor also presented them with an industrial sewing machine, looms and other tools, and will continue providing with supplementary materials for the production of handicrafts. The project includes marketing through the hotel, local shops, and other regional outlets. They will receive training in fair price marketing. Additional workshops will be held for learning techniques for making other products such as  furniture, over the next 6 to nine months.
We congratulate Deflor Bioengenharia for this community initiative and urge other Latin American companies to follow its example and create similar environmental oriented income earning projects for low-income communities. The training program is based on international Vetiver handicraft training that has been developed over the past 10 years. Those interested in the subject can write to [email protected].
POTENTIAL APPLICATION OF VETIVER FOR REMEDIATION OF "AGENT ORANGE" CONTAMINATED SOILS IN VIETNAM. The Vietnam  Institute of Geosciences and Mineral  Resources (VIGMR) is holding an international workshop on October 25-26, 2016. "Heavy metals, Dioxins and Persistent Organic Pollutants POPs)- their impact and the potential use of Vetiver Grass for remediation" . Workshop invitation at this link. A summary of the research project - Study on the potential use of vetiver grass (Chrysopogon zizianioides L) in mitigating soil contaminated by toxic chemicals and dioxins – A case study at Bien Hoa airbase" is available. Mitigating the very negative long term impact of defoliate chemicals containing dioxins that were applied during the Vietnam War is very important to the Government of Vietnam and to the Vetiver Network International. The research carried out over the past few years at the Bien Hoa airbase has shown very encouraging results to the extent that "Vetiver can be widely applied in treating the contaminated environment in Vietnam, especially dioxin contamination and heavy metals. The results of this project will be used as the scientific basis of treatment of these contaminations"
VETIVER COLD TOLERANCE. "Comparison of twelve vetiver cultivars for winter survival at freezing and below freezing soil temperatures". Robert P. Adams of Baylor University Texas shared information that indicate that certain cultivars of Chrysopogon zizanoides are more cold tolerant than we thought. Quote "This study shows that there are cold tolerance differences between cultivars. It may be that soil freezing at 6" depth is a critical factor in survival." Details at this link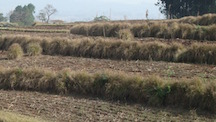 - Vetiver System Soil and Water Conservation research out of Nigeria! Climate change is already creating more intense storms – floods; and less rain and higher temperatures – drought. It will get WORSE. We need to become very much more active in finding solutions that can easily and inexpensively be applied. We have written many times about the Vetiver System for soil and water conservation, and no is the time to step up its application particularly in the warmer areas of the world. The verified facts are that the Vetiver System's use of the  unique plant, Vetiver grass, results in: (1) significant reduction in soil loss, (2) significant reduction in rain fall runoff, (3) reduced soil fertility loss, (4) improved groundwater recharge, and (5) improved crop yields and incomes. 
The latest research comes from a Nigerian paper , "Using Vetiver Technology To Control Erosion And Improve Productivity In Slope Farming" by Efiom Essien Oku, Emilolorun Ambrose Aiyelari, Kwabena Owusu Asubonteng; published by United Nations University Institute For Natural Resources In Africa (Unu-Inra).  These trials were undertaken on 45% slopes in southeastern Nigeria where the rainfall exceeds 1,000 mm per year and the soils have high acidity and have been disturbed by cultivation with high soil, water, carbon, and plant nutrient losses, leading to significant reduction in crop yields.
"This study assessed the effectiveness of vetiver buffer strips in mitigating degradation on a landscape of 45% slope. Vetiver Buffer Strip (VBS) planted at intervals of 5m, 15m and 25m surface spacing were compared to each other and also to usual farmers' practice (FP) as the control. Twelve erosion plots, each measuring about 50m long and 3m wide were used. The plots were planted with traditional mixture of maize (10,000 plants ha-1) and cassava (30,000 plants ha-1). Pre and post-experiment soil properties including bulk density, organic carbon, nitrogen and phosphorous, exchangeable bases were determined in the laboratory. Runoff, soil loss, crop yields and rainfall were also measured. Of the total soil loss in 2010, 70% was from FP, and VBS at 5m, 15m and 25m respectively was 4%, 14%, and 12%; and 2011 78%, 3%, 10% and 9%.  In 2010 rainfall lost as runoff was 29%, 7%, 12% and 13% under FP and VBS at 5m, 15m and 25m respectively; and the corresponding loss in 2011 was 21%, 8%, 10% and 11%. Crop yields were significantly higher under VBS plots. Yield declined in the second year under FP whereas it increased under VBS plots. When compared with FP plots, maize yields increased by 55%, 27% and 32% in 2010 under VBS with 5m, 15m and 25m spacing, and in 2011, it increased by 89%, 69% and 68%, with the same interval spacing respectively. Cassava yields increase under VBS at 5m, 15m and 25m by 76%, 47% and 41% respectively in 2010. The corresponding values for 2011 were 289%, 206% and 188%. Carbon loss in eroded sediment were 91%, 41% and 21% lower under VBS at 5m, 15m and 25m spacing respectively, than under FP in 2010; and in 2011, where it was 300%, 177% and 84%. Nitrogen loss was also lower under VBS at 5m, 15m and 25m by 80%, 28% and 29% in 2010 respectively, and in 2011, the values were 175%, 120% and 57%. Vetiver buffer at 5m interval significantly reduced runoff, soil losses and increased yields of the crops under study. In addition, vetiver showed dual potentials in climate change adaptation and GHGs emission mitigation, sequestering carbon and nitrogen and enhancing water use efficiency when compared with FP". "Planting of vetiver grass on the contour 5m apart can effectively decrease soil and nutrient losses and sustainably increase agricultural productivity. Additionally, it holds the capacity to sequester carbon and nitrogen that would have escaped into the atmosphere as carbon dioxide (C02) and nitrous oxide (N20) contribute to GHGs emissions." The full paper is at:  https://www.vetiver.org/NIG-soilcon.pdf
This research used Chrysopogon nigritana – a variety of Vetiver that is native to many countries in Africa, and although the plant is fertile it is not considered aggressive or invasive when grown under upland conditions. These results are in line with other Vetiver experimental results undertaken in the wet tropics. It is particularly important for countries with small and poor farmers to find suitable technologies that remedy the issues that they face.  The Vetiver System is one of them. For those readers interested in learning some of the practical aspects of introducing the Vetiver System take a look at John Greenfield's paper: Poverty Alleviation Using the Vetiver System in Tropical Developing Countries.
China and the use of Vetiver as a livestock feed. -- Liyu Xu, Vetiver Coordinator for China, has been promoting the Vetiver System for 20 years, and continues to provide us with feedback on the use of vetiver in south China.  Most of the areas that he personally is involved with are relatively high rainfall and hilly areas where soil is poor and where people are poor.  In Yunnan province a group of farmers have formed a cooperative to support the production of cattle and goats using vetiver as the main source of feed. Liyu's note is at:  https://www.vetiver.org/CHN_cooperative%20of%20raising%20cattle.pdf and is well worth reading.  The bottom line is that when grown as a forage, and managed and fed on a rotational cutting system at a time when the vetiver leaf is young it is possible to get good growth and substantial increase in incomes.  It is interesting that these farmers also sell some of their vetiver as plant material to local construction companies for slope stabilization and other purposes. In addition on farm erosion and rainfall runoff is reduced. Seems to be a WIN WIN situation!!
I have been writing about the potential of these  multipurpose applications of vetiver for a number of years now.  This one from Yunnan is a good example.  Vetiver is grown and managed (not just as a hedge) as a forage crop supporting, in this case, 3 head of cattle/ha; it is cut as forage every two or three weeks (at larger scale it could be strip grazed); some of it is being harvested and sold as planting material; it is drought tolerant, it grows with minimum inputs, and is protecting and enhancing the soil. The cow manure will either be used for biogas production or returned to the land.  The cooperative structure is interesting, quote "The cooperative operates as a combination of company, cooperative, and farmers. The Yunnan Vetiver Sci-Tech Co. Ltd, a branch company of Kunming Guangbao Biotechnology Engineering Co. Ltd is a shareholder in the form of technical service, seedling supply, and Vetiver plant material repurchase; the cooperative distributes seedlings to farmers in terms of individual need; and the farmers individually cultivate the Vetiver.  Worth trying in other countries????
VETIVER SYSTEM AND DROUGHT - How Vetiver saved a farmers herd of cattle in Venezuela. Climate change is resulting in severe droughts in some parts of the world.  The Vetiver System if applied and managed as a forage crop could provide communities and farmers greater resilience and protection.  Analysis of vetiver leaf shows that at a young stage its nutritional value is as good as the popular tropical grasses such as Rhodes, Napier, Star, Kikuyu and others. The key question is how to manage vetiver in order to  produce a quality forage.  Small farmers in Gundalpet, south India, know - they cut their vetiver hedges every three weeks - great forage! We need to apply an appropriate management approach, probably following controlled strip grazing or rotational grazing practices, for those farmers who could use vetiver as a forage crop at large scale. Here follows an interesting and related story from Raphael Luque of Venezuela titled "Vetiver Saved My Herd". . read on
News from China Vetiver Coordinator, Liyu Xu. -The second year of a new project: "Vetiver and agroforestry for poverty reduction and natural resource protection in the Dabie mountains of China", supported by Germany, continues to promote VS technology in this very poor part of China. Mr. Yong Lu, associate professor from School of Economics and Management, Nanjing University of Information Science and Technology, has redesigned our website. When opened by Google Chrome browser it can be nicely translated to English A new book "Vetiver System Research, Application and Extension", edited by Xia Hanping and Liyu Xu will introduce new VS development since 2008 in China and in the world. This will follow a book titled "Vetiver System: Theory and Practice" published in 2008. We will establish a new network: Southwest China Vetiver Network based on  Kunming to promote VS development in a region covered by many mountains.
VETIVER INSTALLATION GUIDE. This guide was prepared by Oahu Resource Conservation and Development Council in cooperation with USDA Natural Resource Conservation Service (NRCS) Pacific Islands Area with support from an NRCS Conservation Innovation Grant (November 2012). It is an excellent guide particularly for soil conservation applications. Recommended reading.
Coincident to the Climate Change meeting in Paris, TVNI has published the Second Edition of "The Vetiver System for Quality – Prevention and Treatment of Contaminated Water and Land" authored by Paul Truong of Australia and Luu Thai Danh of Vietnam.  The publication updates research and fields experience carried out by various scientists and users around the world showing the importance and success of the Vetiver System for dealing with polluted water and land.  The results and methods applied demonstrates the uniqueness of Vetiver grass as a plant that has special characteristics in its stand alone mode, as well as its interesting symbiotic relationship with other organisms associated with its rhizosphere that enable Vetiver to remove toxic chemicals from both soil and water.  A plant that is so well behaved, that can clean up polluted water and land contaminated by heavy metals and other toxic chemicals, and that can function efficiently over a huge range of soil, water, and climatic conditions, is truly incredible.  This publication is a testament to many contributors to the development of the Vetiver System, especially to Paul Truong who has dedicated a good part of his life to the development of  "Vetiver Phytoremediation Technology".  Hard copy of this book (containing nearly one hundred photos, figures, and tables) is available in early December from amazon.com, and can be viewed on TVNI's website - https://www.vetiver.org/TVN_Water_quality%202%20ed.pdf
SPANISH EDITION of "The Vetiver System For Improving Water Quality: Prevention And Treatment Of Contaminated Water And Land - Second Edition (2015)" has now been published. Thanks to Pablo Ruiz Lavalle and Iliana Toussieh of Red Colaborativa de Permacultura La Margarita (Mexico) for translating the manual into Spanish, this edition is now downloadable at:https://www.vetiver.org/Water%20quality%20Spanish%20web%202.…
Hard copy of this book can be purchased (as of May 11 2016) from Amazon online sites in the US, Europe and UK. If anyone want to buy in bulk (more than 10 copies), I can arrange a considerably lower price (if you contact me). This price reduction is available for all TVNI published books on Amazon.
VETIVER SYSTEM NEEDS TO BE USED MORE WIDELY FOR STABILIZING INFRASTRUCTURE. Since 2000 the Vietnamese provincial governments have been testing and using the Vetiver Ssytem, at large scale, for highway (Ho Chi Minh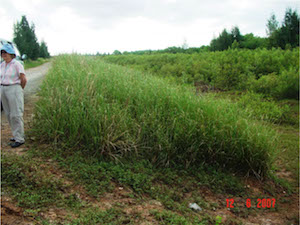 Highway) -- and for Sea Dyke Protection in the Mekong Delta - These are a very important applications and show the impact of vetiver over 8-15 years of use. When the Vietnamese under take trials, they don't mess around with a few meters, instead they think kilometers! I can see VS application for highway and sea dike protection in many countries, but specifically in south and East Asia (China, Philippines, Indonesia. Thailand, Malaysia, Indonesia, Bangladesh and India). VS protection is long lasting and a very low cost (as much as 90% over conventional practices). The Vietnamese experience is FACT not FICTION and is applicable most places in the tropics. Why is it not being used widely? Many answers - the most important being: lack of knowledge, "too good, too cheap" syndrome (in other words PROFITS), and entrenched traditional habits or ignorance by those responsible - and in the latter I include many of the international and bilateral agencies! Please CORRECT me if I am wrong. Thank you Vietnam for showing the way.
SOLVE SOME OF YOUR CLIMATE CHANGE PROBLEMS BY USING THE VETIVER SYSTEM - A SYSTEM THAT IS NOT USED ENOUGH BECAUSE IT WORKS TOO WELL AND IS TOO CHEAP!! - At a time when extreme weather events effect the stability of many different types of infrastructure in tropical countries here are links to four presentations given at ICV6. They are interesting, thought provoking and very relevent to our times:
Application of Vetiver (Vetiveria Zizaniodes) as a Bio-technical Slope Protection Measure – Some Success Stories in Bangladesh by Mohhamad Isla. PhD
Vetiver System for Infrastructure Protection in Vietnam: A Review after Fourteen Years of Application on the Ho Chi Minh Highway (2000- 2014) by Tran Tan Van PhD and Paul Truong PhD
Mine and Associated Rehabilitation Projects in Africa and the Indian Ocean Islands by Roley Noffke
A Social Investment Opportunity for Rural Communities in Improving Land Degradation Using the Vetiver System by Roley Noffke
GEOTROPISM OF VETIVER GRASS. A photo essay of vetiver grass applied to various slope stabilization applications by Paul Truong, TVNI Technical Director. THIS IS THE BEST COLLECTION OF VS SLOPE STABILIZATION EVER PUBLISHED AND EXPLAINS WHY VETIVER IS SO EFFECTIVE. ENGINEERS PLEASE TAKE A LOOK!! A picture, and there are many, is worth a thousand words! These pictures are real pearls!
Vetiver System in Iran. Salman Shooshtarian of Iran has informed TVNI about ongoing work with VS in his country (see).  He and Ali Tehranifar have translated the Vetiver Grass Manual by Truong et al into Persian and there work has now been published in by Iranian Agricultural Science Publications: http://www.adinebook.com/gp/product/6005410754. The Iranian Association for the Promotion of Vetiver has been established as an NGO - see their interesting presentation and the latest work on canal banks and rivers The visual demonstration and the quality of the vetiver plants and their growth clearly demonstrates the application of VS in semi arid and arid areas and is particularly applicable to Mediterranean and Middle East countries. Another VS application of great potential in these areas is for the treatment of waste water in its various forms on either small or large scale.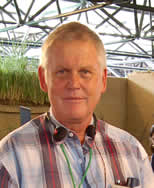 Establishing Native Vegetation for Soil Stabilization in Semi-Arid Areas in South

Africa, Ethiopia and Madagascar. An excellent presentation by Roley Noffke of Hydromulch - Africa's leading land restoration company."As a pioneer species, vetiver grass, enables native species to establish on degraded sites where under normal circumstances it is impossible for the latter to develop. Vetiver grass provides habitat, shelter and forage to fauna". 
Vetiver Phytoremediation Technology (VPT) -- Paul Truong is TVNI's Technical Director and a world authority on the use of vetiver grass technology for the treatment ofcontaminated land and water. We refer to this type of application as Vetiver Phytoremediation Technology (VPT) . He has recently prepared a useful photo essay on the use of VPT for waste water treatment, comparing the before and after impact of vetiver. There are also two water treatment programs one, in Singapore (using C.nemoralis instead of the more efficient C. zizanioides) that Paul helped design, and the other in Oman (using Phragmites sp) designed by BAUER Um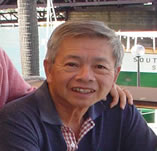 welt GmbH of Germany). Both have interesting design features, and both could use C. zizanioidies. This slide show can be downloaded as a pdf file.
COMPUTER MODEL FOR TREATMENT OF SMALL VOLUME WASTEWATER
If you have problems with dealing with waste water and sewage effluent on your property you may be able to use the Vetiver System to eradicate it. This model by Paul and Nicholas Truong shows you how, and the number of plants that you will need.
Treating Industrial waste water with Vetiver -- Here is a nice example from Paul Truong of how vetiver can be used for industrial or agricultural waste water treatment using floating pontoons (best design yet) and by planting on the banks of the lagoons. There is great potential to apply the Vetiver System for waste water treatment not only on industrial scale but also for smaller treatment needs for single households, small hospitals, hotels, schools, refugee camps, etc. using the alternative "wetland" vetiver application.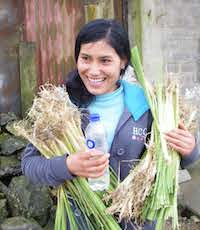 VETIVER SYSTEM - A SOLUTION FOR URBAN WASTE WATER TREATMENT IN THE TROPICS?: In most cities, towns, and villages in developing countries there is no connection to a public sewage/waste water treatment. Where there is a connection the effluent is often discharged without treatment to near by rivers. Where there is no sewage system some properties may have septic tanks, and the majority of these leak and miss function. The result is that water tables, water bodies, and the local environment are polluted with consequential increases in foul smelling air, undrinkable water, and increased water borne diseases. One such an example, described in a World Bank report on Indonesia describes the city of Palembang, South Sumatra, with a population of over a million having no direct sewage connections, and 70% of the households having septic tanks, of which 30% miss function. Correcting this situation with conventional costly technologies for Palembang, and tens of thousands of other urban centers in the tropics will be prohibitive and will take decades. It is essential to start installing low cost, flexible, and sustainable remedies, that might not be perfect, but are able to reduce the problems significantly. The Vetiver Phytoremedial Technology (VPT) as developed by Paul Truong is one such solution. Read more ......
USDA/NRCS endorses Vetiveria zizanioides (Sunshine cultivar) In a very useful and practical plant guide USDA/NRCS supports the use of Vetiver (Sunshine cultivar) for soil and water conservation, slope stabilization and phytoremediation. It also vindicates Vetiver as a non invasive plant: "For approximately the past 15 years, no volunteer seedlings have been observed from conservation plantings of Sunshine in the Pacific Islands Area. Sunshine was evaluated for invasiveness by the Hawaii-Pacific Weed Risk Assessment and Pacific Island Ecosystems at Risk. It received a low risk score (-8) for the potential to become invasive." Note: Sunshine Vetiver has the same genotype (DNA tested) as the majority of cultivars of Vetiveria zizanioides used under the Vetiver System throughout the world.
CERTIFICATES OF TECHNICAL EXCELLENCE See a complete list of those certified in Vetiver System Technology. Details on how to get certified. Example of "Class 1" submission
Vetiver System Overview

Learn More
The Vetiver Network International (TVNI) promotes the Vetiver System (VS), a concept integrating simple scientific principals of hydrology, soil mechanics, and similar natural processes to manage soil and water on a landscape scale. The concept excels best when implemented using clones of a remarkable domesticated plant – vetiver (Chrysopogon zizanioides), a non fertile, noninvasive Indian clump grass cultivated for centuries for essential oil. Vetiver is central to a wide range of applications, generally installed as narrow linear barriers (hedgerows): its roots hold soil in place and dense ground-level stems restrain sediment flows. Unlike "hard" engineering approaches that weaken over time, VS grows stronger. It is a renewal of a traditional approach that has been validated scientifically, and expanded and promoted by TVNI. The VS provides significant economic, environmental and social benefits. VS is now used in most tropical and semi-tropical countries, north to Italy and south to Chile. Based on research and demonstrations through TVNI "partners," including research institutions, development agencies, NGO's and the private sector, VS has expanded from a technology primarily for farm soil and water conservation to include major applications for:
slope stabilization of public infrastructure (e.g., roads, railways, canals, rivers, construction);
prevention and treatment of contaminated domestic and industrial waste water;
reclamation of toxic mine-tailings and polluted industrial land;
disaster mitigation (e.g., stabilizing potential landslide sites, dikes and levees, dampening wind scour, and area protection against flooding);
soil improvement, wetland and marginal land restoration, and crop pest control;
renewable natural fibre for handicraft production, mulch, and thatch, etc.
bio-fuels
All these applications impact positively on sustaining the environment and natural resources, while improving human welfare. For more details about the plant, its propagation and how to plant it go to this link

Compare Vetiver System for on farm soil and water conservation with "hard" structures.